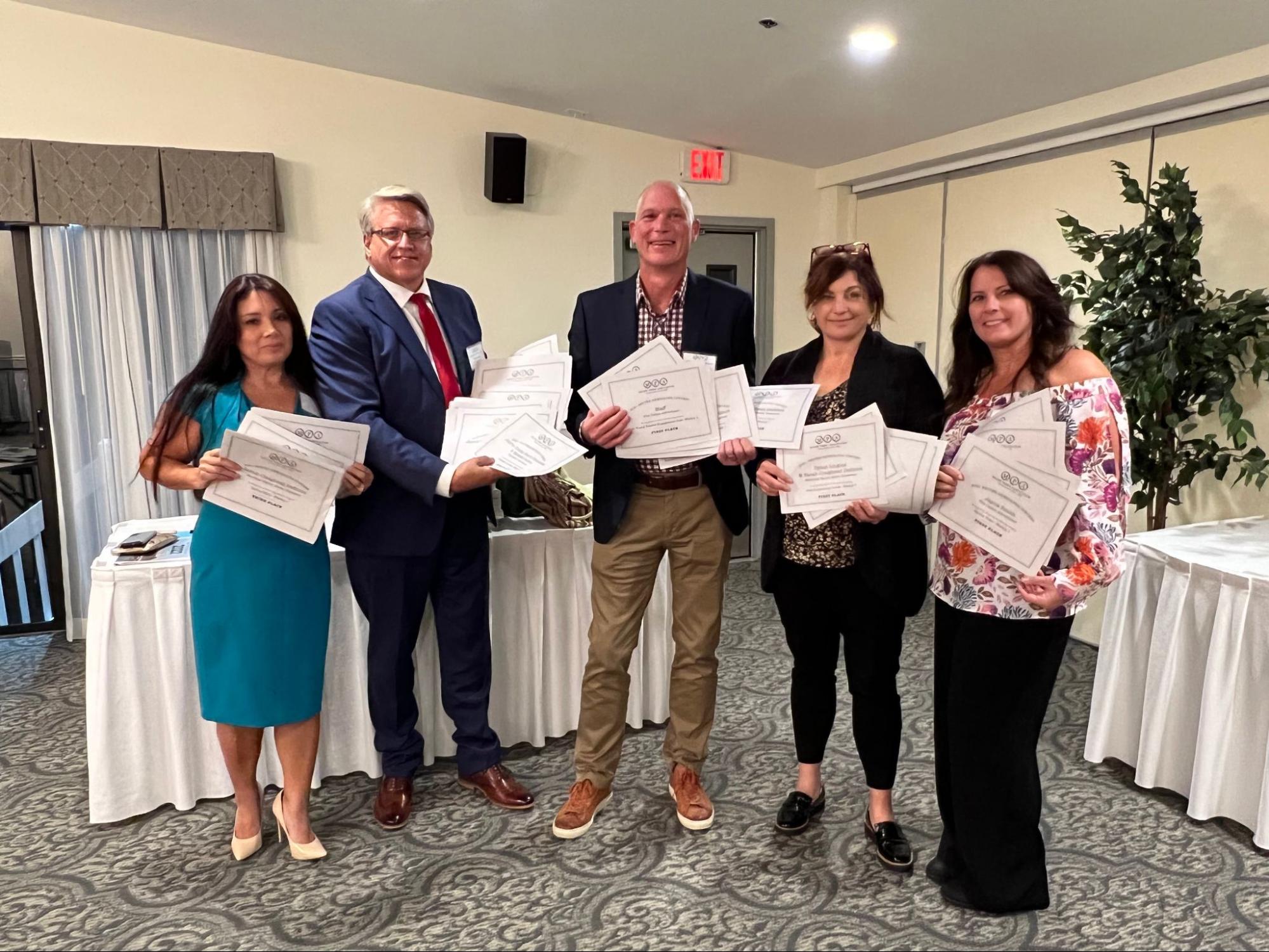 From left to right, Wendy and Pierre Little, Chris and Sarah Dedmon, and Jayna Smith hold up their 42 awards presented at the 2022 Maine Press Association Awards banquet.
The Southern Star's sister papers, The Calais Advertiser and Machias Valley News Observer, were recognized this past weekend at the Maine Press Association Annual State Conference held at the Atlantic Oceanside Hotel and Event Center in Bar Harbor, Maine, on October 22. The Calais Advertiser was presented with 24 awards for its exceptional journalism work, and Machias Valley News Observer received 18 awards, for a total of 42 awards combined between the two Washington County publications.  
Pierre Little, Publisher of The Southern Star and the Calais Advertiser, said, "It is so incredible to be recognized by the Maine Press Association once again this year.  The Southern Star won one first-place award this year from Alabama Press Association. However, I took over only in November 2021, so I have high expectations that our efforts to improve the Star this year will pay off in next year's Alabama Press Awards presentations.  In Maine, I thought we won a lot last year, but this year really is incredible.  I could not be more proud of our efforts and our editorial team.  We have won so many awards this year, we are running out of wall space to hang them all."  
The publication, which is Calais' oldest and longest-running business, also earned Best Overall Awards for General Excellence - Advertising, earning second place, and General Excellence - Digital, taking the third spot. 
Jayna Smith proved her merit in the sports categories, winning the highest honor for Best Sports Video, second place for Sports Photo, second place for Sports News Story, and third place for Best Sports Columnist and for Best Sports Headline.  Likewise, with graphic designer Cheryl Stabinski, the pair won second in Best Sports Section and third in Best Sports Page Design, sharing with reporter Natalie Boomer.
Recognition for Smith also included first place in the newspaper Self-Promotion category for her report on The Calais Advertiser being selected as the St. Croix Valley Chamber of Commerce's Business of the Year, first place for Best Feature Headline, second place in photography for Best Picture Story, third place in the Investigative Report category, and third place in the Outdoors Story category.
Graphic designer Cheryl Stabinski also picked up awards at this year's conference.  Her Weekly Wildlife Photos picked up the first-place award for Best Circulation Promotion.  She also received second-place spots in both Local Ad and Best Illustration.  Together with Smith, they claimed top in Best Graphic, and the pair, along with Ebonica Carson, won top honors for Best Campaign or Series with their Shop Local Tips.  This campaign featured well-designed layouts of local business ads as the holidays approached.
Other awards for The Calais Advertiser included top pick for Best Young Reader Engagement Idea for its annual Downeast Basketball Review.  This special edition also earned third place for its cover page.  The staff also was chosen as third-place finishers for Best Supplemental Section for their coverage of the St. Croix Homecoming Festival 2021.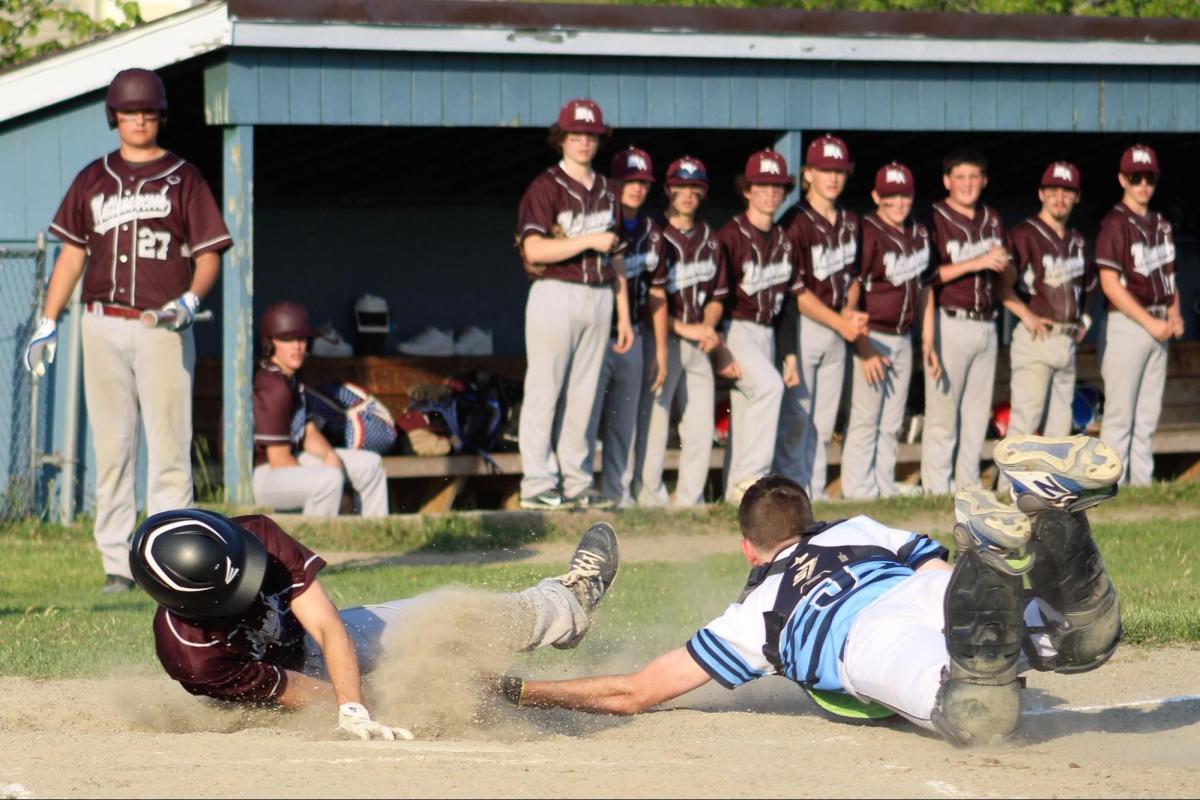 A diving Kobe Saunders tags out a Mattanawcook runner.  This photo, originally published in the June 10, 2021, edition, earned third place as a sports photo in the 2022 Maine Press Association Awards.  (Photo by Jayna Smith)
These two photos are part of a series of Memorial Day photos, originally published in the June 3, 2021 edition, which was awarded second place in the 2022 Maine Press Association's Picture Story category.  (Photos by Jayna Smith)
Jayna Smith, Reporter for The Calais Advertiser, Wendy Little, Publisher's wife and Comptroller, and Sarah Craighead Dedmon, editor of Machias Valley News Observer, at the 2022 Maine Press Association awards banquet last weekend. (Photo by Matt Vinson)
Little was the first-place recipient of Best News Video.  His video of a Union Street structure fire provided on-scene coverage with interviews from first responders.  View video by scanning with your phone camera.